VIVA Wallet - ONLY FOR CLIENTS FROM GREECE
The service Viva Wallet was developed by Viva SA Payment Services, electronic money institution and operates officially licensed by the Bank of Greece.
The company Viva Payment Services SA, was founded in December 2010 by offering a set of innovative payment services to individuals, businesses and professionals, providing leading security, flexibility and continuous support.
Step 1 – Create account at VIVA Wallet
If you do not have an account at VIVA Wallet, create one by clicking the image below:
Fill in the details that shows in the form and press "Sign Up"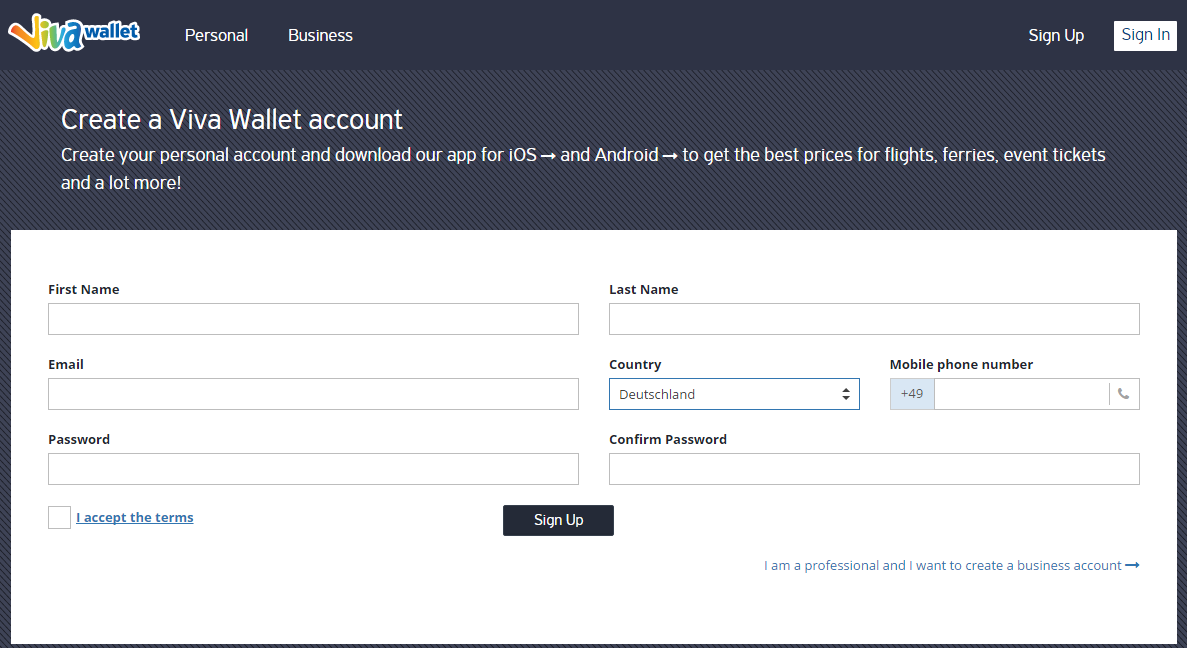 Registration is completed. An email and a sms have been sent to you. 
Open your email and click the link to confirm your details. Then you will be prompted for the code you received in the sms, enter and click "Confirm"
Confirmation completed. Now you can log into your account, putting in your mobile number and the password you choose.

Step 2 – Add & verify your credit/debit card
After logging into your account, click "Add New" to add your card

In the window that opens fill in your card details and click "Validate and save"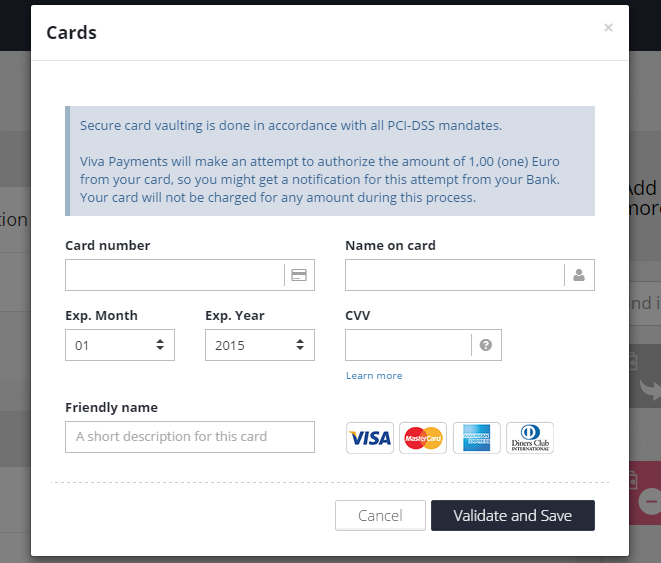 At this point, VIVA will make a pre-authorization of EUR 1 on your card, which is refunded after.
The card is added to your account and press "Verify Now"

Then, you will see the related window and press "Verify"

By pressing "Verify" will debited the amount from 0,01 € to 0,99 €. The exact amount can be seen in the analysis of your card or you can call your bank's service line and ask them what is the exact charged amount that made by VIVA.
Once you know exactly how much, you can press "Complete Verification"

In the window that opens you can put the exact amount of 01 to 99 and click "Verify"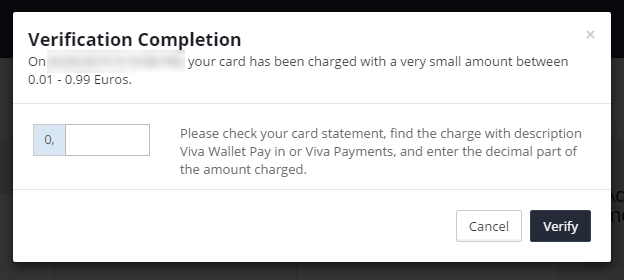 Now your card is verified and ready to load your wallet with money

Step 3 – Add funds to your VIVA Wallet
Press the "Add" button right on the page

Select "Charge a card" in the window that opens

Place the desired amount (1), ie if you want clean 50 euro should write 51.07 euros because there are transaction fees (1,9% + 0,10 €). Pay attention to (3) spot as shown.
Choose also your verified card (2) and press "Charge card" (4)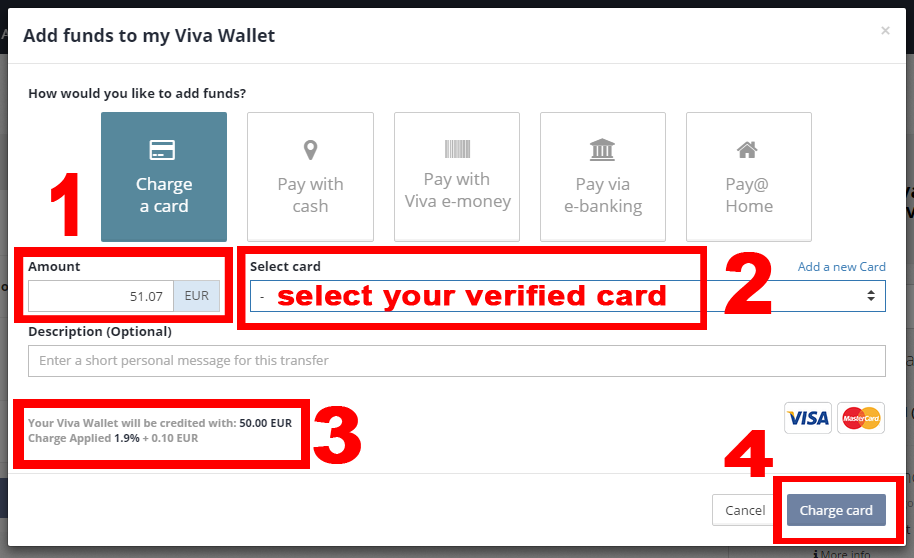 The transaction completed and the amount is now available in your wallet

Step 4 – Pay your order
Press "Money out" on the right

Select "Send to another person"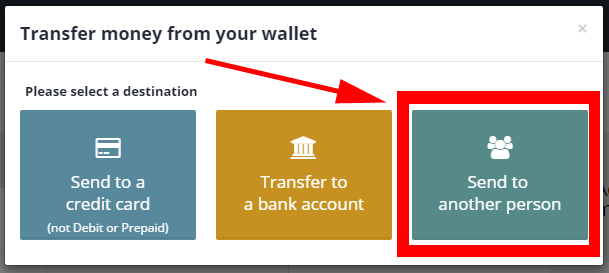 In the window that opens complete the fields EXACTLY AS the details that you received by us after your order
After, click "Proceed"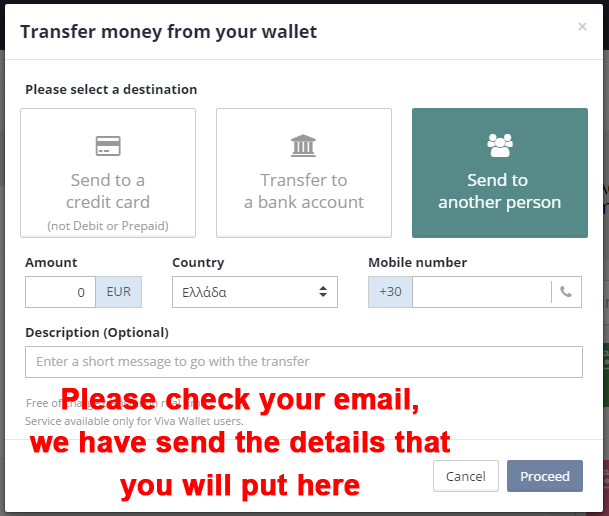 Here you can check if everything is ok and fill the sms code that you just received to your mobile phone and press "Confirm Transaction", after that, the money have been successfully sent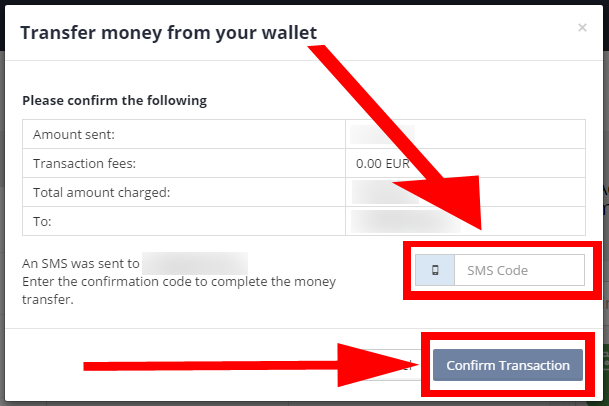 After the check by Admin you will receive new email with confirmation